---
Offseason notes:
We finished the season at 7-7. That's about the worst place to finish. For one thing, the team failed to make the playoffs. On top of that, we get mediocre draft picks. On a positive note, we had only one retirement: Rookie WR Mike Jenkins. He most likely would have been cut this season so he's moving on to be an art teacher. Good luck. The team is getting pretty old especially at linebacker and on the offensive line. We have some young defensive backs coming in but they aren't as good as the veterans they will be replacing and never will be. Quarterback Ken Rogers is past his prime. We may be drafting a quarterback and committing to the beginnings of a rebuilding program.
It was announced that the league will be dropping 2 teams and placing those players in the draft as free agents. They can be selected in rounds 4 and beyond. I have been contacted by the ownership of the Charlotte Fire Ants with interest in my 4th and 5th round picks. They are offering a quarterback that in my view, isn't as good as what's on the vine. However, the Ants do have the first two picks of the first round, which is tempting. Seeing that Charlotte had 4 defensive linemen retire this season, they may take defensive end Burnell Romo and my 4th round pick for their number one pick.
Okay, that deal fell through. They didn't want Romo, they wanted Ian Scott instead. While I could have replaced Scott in the draft as far as potential goes, I would have lost a training camp's worth of development. SO… I'll take my chances with the draft.
---
Draft Notes:
We did much better than expected. The Beasts picked a defensive lineman in the first round for the sixth consecutive draft. The quarterback we wanted was still available in the second round. I needed a good receiving tight end to eventually replace the aging yet still amazing Jerry Bell, and picked one up in the third round. With the veterans now available in the draft, we picked up a young linebacker in the 4th round. In the 5th round we picked up a strong 7-year quarterback which will make Ken Rogers expendable. In the 6th and 7th rounds we picked up a couple of young offensive linemen. One of them we hope to develop into a speed blocker for sweeps and one as a power blocker for inside plays.




Draftees:
&nbsp1 DT Alex Boston
&nbsp2 QB Curtis Painter
&nbsp3 TE David Jones
&nbsp4 LB James Bradie (1-year veteran)
&nbsp5 QB Matt Cavanaugh (7-year veteran)
&nbsp6 G Max Stark (1-year veteran)
&nbsp7 G Billy Rispress (2-year veteran)

Cut:
&nbspQB Ken Rogers (10-year veteran)
&nbspG Steve Jennings (10-year veteran)
&nbspG Montrae Holland (1-year veteran)
&nbspDE Burnell Romo (9-year veteran)
&nbspDT Dick Hicks (10-year veteran)
&nbspLB Jimmy Williams (9-year veteran)

With these changes the Beasts are at 53 players and far enough below the salary cap that I can pick up a free agent. I need a better blocking tight end and one is available.
---
Free Agency:

We got the player we wanted. TE Andre Samuels, a 7-year veteran. Released was TE Kelsey Shaw, a 5-year veteran who missed a lot of blocks in pass protection. This will move the primary blocking tight end, Jeremy Shockey to the backup position. I hope this improves the running game.
---
Training Camp:

While we do have some young players that need development, a lot of team consists of aging veterans that need to regain skills that have been lost due to age. The defense will be focusing primarily on stopping the run while the offensive players will focus on improving the attributes needed for the various roles they fulfill.
---
Pre-Season:

Okay, so training camp didn't go so well. The offensive line is pretty bad at run blocking and so-so at pass protection. The new quarterback doesn't throw nearly as many interceptions as the last one but he doesn't complete passes as often, either. The real source of ulcers this season will be the number of fumbles by the running backs. I have not seen so many in training camp. It's possible thatit's not so much the offense that's inept but that the defense is that good. I wish. So far, the pass rush is okay but the coverage is lacking. Another disturbing note is that the team is ranked as the most talented according to some mathematical formula. It's not that much of a surprise since the team was ranked second in the league last season. What bugs me is that last season this team clearly underperformed in finishing 7-7. Some of the local press blames me but, I don't think so. For now, the ownership agrees with me.

TE Kelsey Shaw landed a job with the Hudson Valley Maulers. Good luck, Kelsey!
---
Week 1: Florida Gators 30, Beasts 17

The pressure of an undefeated season is off. Now I can concentrate on making the playoffs. The game was closer than the stats and the score show. It was 23-17 at the 2-minute warning. The Gator running game is usually dominating to the point where I have to focus on that and the defense gives up a lot of pass yardage. Not this time. The QB draw was the most effective rushing play and mostly on one play where I gambled, guessed wrong and the defense gave up some huge yardage. Other than that, the defense doesn't have much to be proud of. I was expecting Walt Patulski to lead the league in sacks this season. He got shut out. The team as a whole did record 6 sacks while giving up only two. There were too many plays where the linebacker missed a tackle and a defensive back had to finish off the play. With what this linebacking crew costs against the salery cap, those were some awfully expensive broken tackles.

The offense had better not feel cumfy either. Our new quarterback opened the season by committing all three turnovers; two interceptions and a fumble. All three were costly in that they were either deep in our territory or deep in theirs when we were trying to come from behind. The one positive in the game was the running attack. Albeit, most of the rushing yards came on one play in which there was a broken tackle. We could have gotten more however tackles Markese Koncar and Jim Hough completely embarassed themselves: The former on a screen missing an open-field block on a cornerback and the latter getting pancaked by the same cornerback as Terry Allen barely scored a touchdown from the two-yard line. The play would not have been close if that oaf had made his block. Another goat in the house is Jerry Porter. He dropped a couple of important passes early.

Week 2: Beasts 20, Port City Panthers 14

This was a little closer than I would like but I'll take it. Actually, this win was huge. The franchise has never beaten the Panthers since moving to Beast Inn. Last season we knocked on the door when we lost 17-13. Statistically, that was a much closer game. This time we got killed except we got a few breaks with some Panther fumbles and we scored when we could. The defense took a pounding which became a problem late in the fourth quarter when the Panthers mounted a rally. Offensively, there is still a problem with dropped balls and I would like to think the quarterback situation has settled down. We didn't throw any interceptions and most of the decision making was relatively sane. What was impressive was the way the Blue Meanies rallied at the end with what little was left in the tank to hold on to the lead. Pictured below is what I consider to be the play of the game. On first down on the Beasts 32 yard line, with a minute and thirteen seconds left in the game, Elway, the Panthers' QB rolled to his right and completed a screen pass to halfback John Cappelletti. With two blockers in front of him and only one Blue Meanie between him and the goal line, Cappelletti would have definitely scored the go-ahead touchdown. However, middle linebacker Mark Merrill weaved his way between the blockers and stopped the play for a loss. While Port City did move down to the Beast Inn 14 where they were stopped on four plays, I feel it was Merrill who saved the game for the Beasts.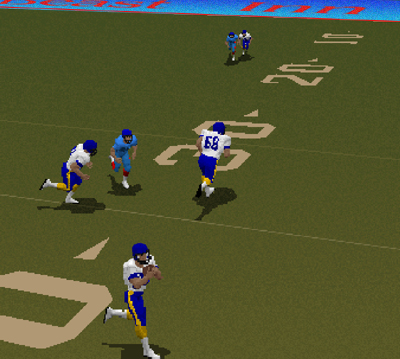 While this was a great game, it still looks like we are going to have a disappointing season. After two games we are 1-1. The offense is ranked 12th. Cavanaugh has a 41.1 rating. On a plus note we are ranked 5th in the league in rushing. Defensively, the once tough Blue Meanies look like the Blue Not-such-bad-guys-once-you-get-to-know-them. They are ranked last in the league which is made worse in that we rank next-to-last in time of possession. We do lead the league in one category: penalties. I need to address that issue. Most of the penalties are on the defense.
Week 3: Washington Redskins 22, Beasts 9As a coach I underestimated the Redskins' speed on defense. It eliminated our outside running game. On top of that, the offensive line was unable to block in the open field which left all screen plays dead where they started. We missed our first kick, an extra point of all things. On defense we continue to pile up penalty yardage. We fumbled a punt return. On a positive note, we did get 6 sacks and we stuffed the running game. A couple of the defensive linemen could have put in a better effort at times and I calmly addressed that at a team meeting. I don't need to name names, they know who they are.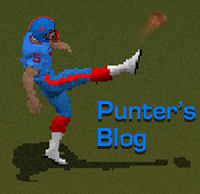 It's Me, B.J. Sander, the punter. A couple of the guys talked me into hacking into Coach's blog to show what really happened at the meeting. Below is the slide he put up on the screen and what he said:

"Somewhere in this picture is almost 600 pounds of waste product soiling a perfectly good football field. 1.5 million dollars of salary cap that could be used to pay FOOTBALL PLAYERS!! Mr. Thomas and Mr. Hand, would you like to stand up and explain to us why you were just standing there watching like you had the best seats in the house? SAY SOMETHING!! If you don't have anything intelligent to say, close your mouths, you're catching flies! How could you take a play off, especially so close to our end zone. You can't do that! This is the NSFL! Of course they're going to score. Look at that offensive line. I hope they brought a good book to read 'cause YOU two aren't giving them much to do. Look at them! They're bored to tears. Sit down, I can't stand looking at you. You make me want to blow my brains out, which if I did, would help me understand what you were thinking at that moment... ...Oooh, Lunch time. Let's eat. We'll pick this up later." -Coach Botch.
Week 4: Whiteland Dawg Pack 26, Beasts 7 This was a tale of two pass rushes. They had one, we didn't. They had blocking, we didn't. On the few times we had pass protection, we moved the ball. Unfortunately, that was rather rare. We successfully screened against the Dawg Blitz but then we found out that they didn't need to blitz. The Dawg Pack also blocked a field goal. On the other side of the situation, the few sacks we had were all called back on penalties. The linebackers as a group had a good game especially Howard Thomas. He picked up a fumble near our goal line and ran it back to inside the Whiteland 10, which set up our only score. At the end of the game he recovered a Whiteland fumble in our end zone. Unfortunately, the officials ruled it as a safety. The penalties continue to mount up. Most of them in this game were defensive holding calls aginst Chuck Kim. His name will now be Hold Kim because he doesn't know how to chuck. There's a little humor there. Very little. Below is a picture of Good ole No. 35 in action.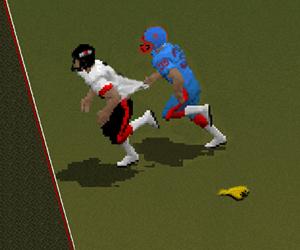 Week 5: Rainier Sasquatch 27, Beasts 24 Things are looking up in that we didn't get blown out. We were actually ahead in this game but the once mighty Blue Meanies couldn't hold on. Pass coverage continues to be the problem along with a lack of pass rush. If Big Walt Patulski is going to lead the league in sacks, he's doing the best he can to give the rest of the league a head start. We did put the cap on the penalties. Hopefully, that trend will continue. We are fifth in the league in stopping the run. Cavanaugh's passer rating is now over 50. Other than coming from behind in the 4th quarter to tie the game up with some awsome passing, the only real notable feat in the game was the catch-and-run by HB Terry Miller. He turned a quick out pass into a 34-yard touchdown. The real controversy of the game was that the replay (and this pic) shows that he clearly did not cross the goal line before he was down. That was my fault. The side judge didn't see the play because he was eating an ice cream cone. He ruled it in my favor because I gave him the ice cream. I guess you could say we lost because I ran out of ice cream. In the other picture you can see a classic, one-two breakdown on defense. In it, Larry Foote abandoned his blitz responsibility in anticipation of a scramble that didn't materialize. Downfield, Chuck Kim abandoned his outside coverage responsibility and let a Sasquatch receiver run downfield uncovered. To his credit, he did motor back to make the tackle and prevent a touchdown. However, a short moment later, Rainier scored on a QB draw to tie things up at 7-7.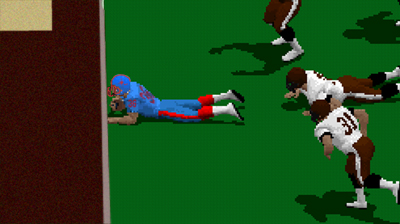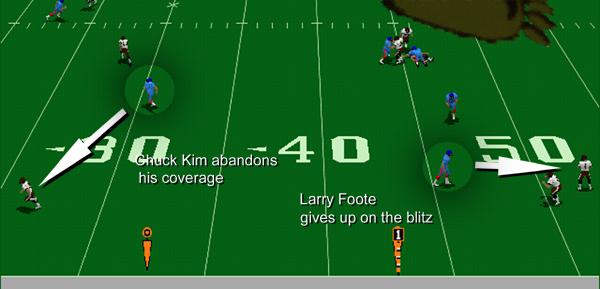 Week 6: Beasts 15, Chicago Bears 3There was an evil wind blowing at Purgatory Field making it feel good to be home. Our biggest break came before the coin toss. A really strong gust of wind blew through the stadium and I looked across the field to see sheets of paper being ripped out of Coach Dan Price's clip board and flutter into the stands. It was his game plan. Most of the paper was collected by two drunk guys I see over there every week. Coach Dan beat the hell out of one of them to get his papers back. The other guy stuffed what papers he had down his pants. Coach Price wasn't about to go there so he returned to the sideline with what he had. On the bad luck side, QB Matt Cavanaugh was knocked out of the game in the first quarter. It made the highlights of ESPN's "JACKED UP!" but the hit surprisingly didn't bother him. He was knocked over backwards and twisted his ankle. He'll be out at least two more weeks. Andre Hall filled in nicely and was made offensive player of the week by the league. His stats are a little inflated, however. Thinking that the Bears would blitz to rattle the young quarterback and not wanting to make a rookie quarterback throw into a strong wind, I called a lot of screen plays. More than a few of those screens were called against blitzes and went for big yardage. The strong winds also dictated our defensive calls. We got lucky in that we were able to use the weather as our twelvth man. Two more high notes about this game: NO PENALTIES and Walt Patulski got four sacks. As a team we finished with eleven sacks. This was a welcome breakout for the Blue Meanies in that they surrendered only 8 yards rushing and 80 total yards. The defense, while last in passing defense, now leads the league in stopping the run. This will come in handy in when we face the Indianapolis Colts who are second in the league in rushing averaging 3.6 yards per run. This will be a real test to see if the team has finally straightened things out or if this was a fluke win against a team that is also struggling this season.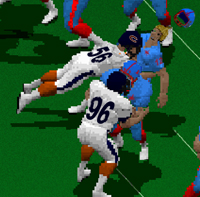 Note: Quarterback Ken Rogers landed a job and starts for the Charlotte FireAnts. In three games he has thrown two touchdown passes and no interceptions. Way to go, Ken! Everyone in the organization wishes Ken the best of luck unless we were to play a game against him. In that case, we'll send flowers to his hospital room after the game.
Week 7: Beasts 29, Indianapolis Colts 13
This was a good game for us. No injuries and the penalties didn't kill us. In particular, no defensive holding penalties that kept the defense on the field. The Blue Meanies are slowly getting into form. They are stuffing the run and the pass rush is beginning to intimidate opposing quarterbacks. Walt Patulski is finally using his moves and scored a couple of critical sacks. On one he got off the ground after getting pancaked, got under the block and got to the quarterback just before the coverage broke down. On the other, he launched a speed rush around the outside to score a much needed safety. On offense, Andre Hall filled in well for the injured Cavanaugh and was named Offensive Player of the Week for the second week in a row. He may have filled in a little too well because I now have my first quarterback controversy in my coaching career. I think he's going to continue to start until I see consitant problems. This time the stats are not misleading in that our screen passes were for the most part, contained. He connected on a couple of long throws that caught the receivers in stride. Any game with 4 touchdowns and no interceptions is a good game. While the Colts have been struggling a little lately, they are still the same team that won a championship a couple of seasons ago against the dominant Jets. Furthermore, the Colts came into the game with a powerful running attack that the Blue Meanies stuffed. A new problem may be developing on special teams in that kick and punt coverages were porous and Justin Flaming missed a PAT; his second for the season. Big Walt got him out of the dog house with a safety. Flaming owes Walt a steak dinner.
Buzz Cahill's Mid-season report card I hate this guy. He needs to keep his facts straight. For one thing, B.J. Sander isn't a rookie.
Week 8: Beasts 13, Ancaster Arrows 10Okay, this one was a little bit ugly, but I'll take it. Nothing really special happened in this game; possibly because of the heavy rain. Andre Hall started at quarterback even though Cavanaugh is ready to go. He's the hot hand and I'll stick with that. The defense rang up 5 sacks. The offensive line gave up none. Andre Hall has gone 3 games so far without an interception. We scored more points. However, Ancaster led in pretty much every other category. In other words, we did it with mirrors. B.J. Sander, the punter was named offensive player of the game for the second time this season. That's a bad sign. Also, we had two penalties and we still lead the league in penalties. However on defense the Blue Meanies are moving up the ranks in sacks and they lead the league in rushing defense. The pass defense is still lagging. That may change if the pass rush continues to improve.
Week 9: Beasts 9, Hudson Valley Maulers 6 This day got off to a rough start. When I got to the stadium, somebody had parked in my parking space. It took me forever to find a spot; which was all the way on the other side of the stadium and on the edge of the lot. I guess I now know how the other side lives. At first the fans didn't recognize me but when they did, I could tell that I wasn't going anywhere soon. I could almost hear the voice in the Snickers' commercial say, "Not going anywhere for a while?"
Anyway, they were nice at first. One group insisted I try their home-made chilli. I burned my whole mouth out. Another guy who travelled all the way from Matewan, West Virginia insisted I go inside his camper and see all the Beast Inn Beasts stuff he had collected. It was an impressive collection. He had blankets, jerseys, lamps, bobble-head dolls, a characature of me, a football I autographed for charity, a helmet autographed by Walt Patulski (I didn't know he could write), ...all kinds of stuff. He even showed me a picture of his car, a 1975 Malibu Classic wagon painted in blue and red with the Beast Inn star painted on the hood. He called it the Beast Machine. As I was looking at this stuff, I could only think of two things: This team is ripping people off, BIG TIME and, white people will buy anything. I told him that I had to go and he understood. Then he raised his hand like he wanted to do a high-five. I raised my hand to return his high-five only he head-butted me instead. That might not have been so bad except he was built like Big Jon Hand and he was wearing his Beast Inn Beasts construction hard hat he bought for $20 from our Christmas catalog last year. That caused my forhead to leak all over his custom $200 home jersey with number 99 and BUBBA spelled out on the back.
Paramedics came and the first thing they asked me was "Who's starting at quarterback?" I told him it was Hall and they started arguing with me. They eventually packed me into the ambulance but wouldn't stop at any hospital until I agreed that Cavanaugh should not lose his job due to injury. When I got to the emergency room, a nurse blamed me for her husband leaving her. She said that her husband hit her every time the Beasts lost. To get even, she lost my paperwork so I ended up stuck there all day and I missed the game. You can't make this up, or can I? Anyway, the team won without me, 9-6. Hall threw his first interception. The team is tied for penalties but still holds a solid lead in penalty yardage. Hall still leads the league in QB rating and the Blue Meanies still lead the league in rushing defense by a solid margin.
What a day. I later found out that the nurse wasn't a nurse but a never-married, escaped psych patient who would routinely run as fast as she could into walls to "Make the CD player in her head stop skipping". I went back and got her phone number!
Week 10: Beasts 24, Hamilton Tiger-Cats 3 Hamilton waddled into town riding a nine game losing streak. These games bother me. On the one hand, a team that is struggling will often play like they have nothing to lose. If they win, it's infuriorating to be the team that breaks their losing streak. On the other hand, I have been through some tough times and I hate to pile it on. Given a choice, I prefer to be in a position to pile it on. After a slow start, we piled it on. Hall missed a couple of easy throws early. I was beginning to think this was his last game as a starter. Then he connected on a couple of long throws and got us a touchdown. The running game finally clicked for this one. Both Miller and Peterbilt had big games; combining for 162 yards. Miller also had a big game catching screens. His downfield receiving effort was kept in check. Louis Wasko returned a punt that he should have called a fair catch on and got hurt. He'll be out for at least next week against the Steelers.
Defensive end Burnell Romo has been picked up by the Charlotte Fire Ants. In two games Romo has five tackles and three sacks. Good for you, Burnell. Other news in the league to report, the Washington Redskins have been sold and have already moved to Arkansas to be renamed the Arkansas Razorbacks. We lost to them as the Redskins earlier this season. We wish them luck until they show up here in Beast Inn in a couple of weeks.
Week 11: Pittsburgh Steelers 22, Beasts 16, (OT) This one hurt. We played reasonably well enough to win but I hate to admit it, I blew it. I didn't pay attention to the clock at the end of the first half and I watched a drive end at the Steelers' one-yard-line with no points. There were other mistakes that are too painful to mention. On top of that, I'm getting eaten alive by the local press. The worst was on Buzz Cahill's weekly radio show. Some clown called in to describe my coaching performance. Very funny, asshole. Louis Wasko is going to be out another week. Terry Miller and Big Jon Hand were injured during the game but should be ready for next week. The offense is still doing better with the new quarterback. The defense has improved as well. The Blue Meanies still lead the league in rushing defense and they are now in third place in sacks. Penalties continue to be a problem but for now, it's not a fatal one.
Week 12: Beasts 23, Florida Gators 0 This was not what I expected. This is one of the few teams that can run the ball against the Blue Meanies. On top of that, when we focus on stopping their running game, they can rip us apart with their passing game. They opened the game with a long pass over the middle that caught our safeties flat-footed. Middle linebacker Mark Merrill had to save things by covering a wide receiver by himself. In spite of the mismatch, he managed to limit the play to 36 yards. The Blue Meanies regrouped and forced the Gators to punt. The offense took their opening drive all the way for a touchdown. Then the Beasts got a break when the Blue Meanies forced a fumble on what would have been a run for a first down. We got a field goal from that turnover.
We continued to move the ball well but not too easily for the remainder of the game. Normally the Gators like to pound, pound, pound to use up the clock and then open things up in the end to win the game. They didn't do that in this game. They continued to pound, pound, pound until the game was out of reach. Then they continued to pound. We finished the game sore and tired but with no serious injuries. Peter Peterbilt was injured in the first quarter but returned in time for the fourth. The Gators did get 82 yards rushing out of a draw play we got to see a lot of. I'll have to disect that play on film to see why it worked so well.
Other news: Louis "The Waskal" Wasko returns to the lineup. Andre Hall continues to lead the league in QB rating at 112. Punter B.J. Sander was named offensive player of the game for the third time. The Blue Meanies continue to lead the league in stopping the run in spite of giving so much ground to the Gators. The Meanies didn't get any sacks in this game but the Gators only threw the ball three times and one of those was a screen.
More news: Bubba wrote me a letter to tell me that his local football team, the Matewan Coal Miners of the WFFL, won the Toilet Bowl. It's a consolation tournament played at the end of the season by the non-playoff teams in that league. Well, good for them. It's nice to see that waste-product of a coach down there accomplish something.