Learning to Sail
1977 was my first year of model yacht racing.† Shortly after I became a member of the Central Park club, my father made a couple of tiny wooden boats and buoys and showed me the basic rules.† I was a quick study in that regard.† As far as learning tactics and setting adjustments, I couldnít be taught a thing.† I was a bratty, snobby, know-it-all teenager and I expected success to come easy.† In spite of a mind-boggling assortment of snafuís, bad reactions and poor decisions, I managed to consistently finish in the middle of the pack.
One day in mid May that year, Dad, Dave Holmes and I were racing our Big Winds for fun at Wampus Pond.† Between the three of us, I never won but at one point Mr. Holmes pointed out that my boat seemed faster than the other two.† My father pretended not to notice and I didnít think much of it.† Over the summer I began to notice it too.† When boats were bunched up like they are at a start, my boat would noticeably pull away from the others.† This made my boat quite forgiving.† I could screw up and with a good gust the boat would make up the ground I lost.†
By the end of the summer I was winning individual races but not complete regattas.† In October I had a narrow lead going into the final race of the Kerbs Challenge Trophy.† I was excited about winning my first trophy of any kind in my first year of racing.† However I choked in that final race and finished the regatta in fourth place.† There were no trophies for fourth place.† The club held one more race that year.† It was called the Jive Turkey regatta.† Marbleheads and 10 Raters both sailed together with first-place prizes for each class.† Each prize was a turkey.† Dad raced his Wind II and I raced with the 10 Raters. Even though I donít care for turkey, I wanted to win one.† I had a lead going into the final race.† I choked and finished in second.
The boat won its first regatta in April of 1978.† It was a High Point regatta similar to the point races in NASCAR.† There were no prizes awarded for these regattas but points were kept track of and went toward an annual trophy.† There were about 12 high point regattas each year.† I went into another slump that summer in that I was consistently coming in second or third in the High Point races and I still hadnít won any trophies.† When September came around, I pulled out of my slump. With a change in the way I adjusted the sails, the boat started to show glimpses of greatness.† It was time for another shot at the Kerbs Challenge Trophy.† I had a lead going into the final race.† Then I choked and finished the regatta in fourth again.
Continue on to The Cutty Sark Regatta
<![if !vml]>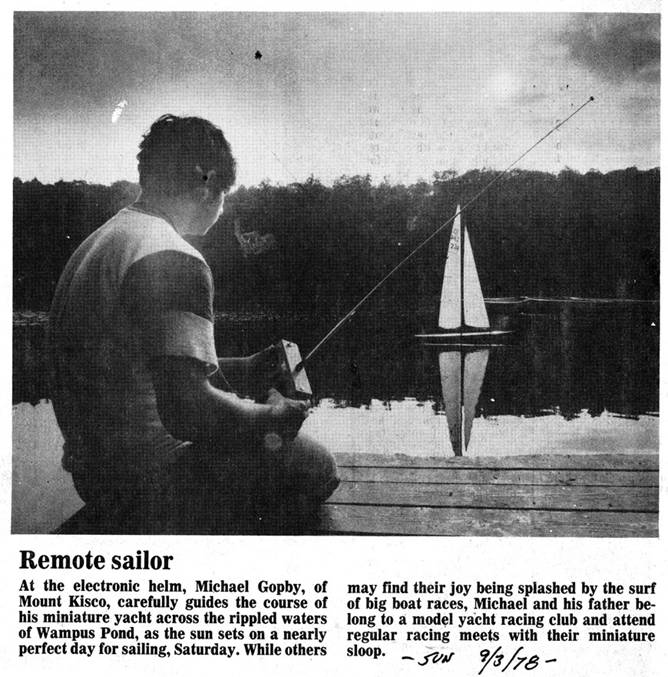 <![endif]>